Film Crew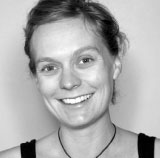 Hilary Balmond
Assistant Editor
Hilary Balmond is Assistant Editor at Shark Island Productions. Prior to working with Shark Island, Hilary was Associate Producer and Editor alongside renowned Australian Documentary Director David Goldie, on Swapping Lives for SBS TV and SBS Online and Blood, Sweat and Cheers for ABC TV. She was also Assistant Editor on Channel 10's Bondi Rescue.
Hilary enjoyed many years directing and editing documentaries and promotional films showcasing the work of community groups and Performing Arts practitioners. This stems from her work as Stage Manager of events and theatrical productions both in Australia and the UK. In her travels, Hilary was commissioned by a London and Moscow based Travel Companies, to create promotional films for independent travellers wishing to explore the Scottish Highlands, Russia, Mongolia and China.
Hilary thoroughly enjoys working as Sally Fryer's Assistant at Shark Island Productions and is expecting her second baby girl soon.