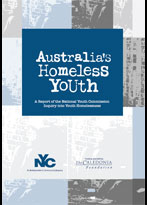 The National Youth Commission's report
Australia's Homeless Youth is the result of the first national independent inquiry into youth homelessness since the Burdekin Human Rights inquiry in 1989.
Funding provided by The Caledonia Foundation
The National Youth Commission Australia (NYCA) held 21 days of hearings in 2007 across all States and territories. Altogether, 319 people gave formal evidence and 91 written submissions were received from community organisations, individuals and government departments. > nycinquiry.org.au
The NYC's findings have been published in this report, including over 80 recommendations. The report is available to download below as a summary or in chapters.
The National Youth Commission's Australia's Homeless Youth Report, and the feature documentary The Oasis were both launched during National Youth Week in April 2008.

Australia's Homeless Youth – Project Summary
> Download Project Summary.pdf (4Mb)

Australia's Homeless Youth report
Complete Report
Chapter by Chapter
Introduction
Chapter 1 – National Youth Commission Inquiry
Chapter 2 – Government responses to homelessness
Chapter 3 – Experience of youth homelessness
Chapter 4 – Incidence of homelessness
Chapter 5 – Homelessness as a process
Chapter 6 – Families in crisis
Chapter 7 – Poverty
Chapter 8 – Labour market marginalisation
Chapter 9 – State care and protection
Chapter 10 – Mental health
Chapter 11 – Alcohol and other drugs
Chapter 12 – Indigenous homelessness
Chapter 13 – Early intervention
Chapter 14 – Supported accommodation
Chapter 15 – Post-SAAP transitions
Chapter 16 – Housing for young people
Chapter 17 – Health
Chapter 18 – Crime and legal issues
Chapter 19 – Income support
Chapter 20 – Employment
Chapter 21 – Community coordination
Chapter 22 – Costs and benefits
Chapter 23 – The way forward
Bibliography & Appendices