DVD Donation Program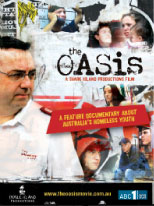 A major Education and Outreach
campaign to every Secondary School
in Australia.
Through a grant from The Caledonia Foundation
a DVD of The Oasis has been donated to every Secondary School in Australia. Teachers and youth workers may order a complimentary copy by email.
The Outreach and Education campaign commenced in 2008. A new comprehensive study guide will be released in mid-2010 that will be linked to curriculum for English, Geography, PD/Health/PE and media studies in all states and territories in Australia.
The DVD and study guide materials provide the framework for engaging lessons and class discussion relevant to issues faced by young Australians. The website serves as a supplementary teaching resource.
Message from The Caledonia Foundation
The question of what constitutes truly effective philanthropy is a perennial theme for the 'third sector'. At The Caledonia Foundation, we strive to punch above our weight and make a significant and measurable difference to intractable social problems affecting young Australians. We aim do this by supporting strategic initiatives that focus on the advancement, wellbeing and welfare of young Australians, particularly through education and training.
Young people are our focus because, quite simply, they are our future. As individuals, their needs and aspirations count. Collectively, their development is inextricably linked with the future sustainability of our nation. So back in 2005, when we first canvassed the idea of developing a high-impact, multidimensional initiative to focus national attention on the appalling plight of Australia's homeless youth, there was an instant philanthropic fit.
We were excited by the prospect of combining grassroots support to vulnerable young people, with the possibility of effecting long-lasting social change. And we were passionate about the primary medium for awareness-raising; a ground-breaking, observational documentary. While documentary filmmaking as a tool for social change is relatively new to Australia - with philanthropic foundations traditionally reluctant to fund in this area - we recognised its latent power to deliver a high return on social capital. Al Gore's documentary An Inconvenient Truth tipped the scales in the global climate change debate. Could a similarly high-impact documentary about Australia's homeless youth create a catalyst for change across Aussie breakfast tables, talkback radio, morning television and Parliament House?
With this grand shared vision for Australia's Homeless Youth project, we lined ourselves up for a philanthropic endeavour of 'David and Goliath' proportions. Youth homelessness is a complex, multidimensional issue - an objectively difficult problem for a small(ish) foundation to tackle. But we knew what we wanted to achieve: the amelioration (ideally, alleviation) of youth homelessness in Australia by 2030. Given the scale of the problem and the enormity of our goal, we gave ourselves the best chance of success: we adopted a 'venture philanthropy' model which galvanised financial, intellectual and social capital.
Financially, we committed ourselves to the largest single venture that The Caledonia Foundation has ever supported, involving substantial, multi-year grants to a discrete set of project partners. This included funding a significant research initiative, the National Youth Commission (NYC), which quantified and qualified Australia's youth homelessness problem via a Community Inquiry mechanism. Through The Caledonia Foundation's funding, the NYC held 21 days of hearings in all states and territories in 2007. Formal evidence was given by 319 individuals and 91 written submissions were received, including seven from government departments. Policy forums/ workshops were held in Sydney, Melbourne and Perth. It was a truly comprehensive, national process, from which a range of evidence-based recommendations were developed.
In terms of intellectual capital, The Caledonia Foundation's Chairman, Ian Darling, effectively dedicated most of his waking hours to the project over a three-year period. As an award-winning documentary filmmaker, with a long-standing engagement with the Salvation Army, Ian was well-placed to spearhead the creative process of producing a high-impact observational documentary on youth homelessness. In an example of highly engaged philanthropy, Ian rolled his sleeves up and personally coordinated all facets of the project from inception. The Caledonia Foundation's executive team was also integrally involved, typically providing assistance in day-to-day management, planning, strategy and communications. We worked closely with the Salvation Army to determine an outreach strategy for the project which would maximise public awareness and donations to 'the cause'. With significant engagement at both the board and executive levels, the project was anathema to the more traditional, write-a-cheque model of philanthropy.
The third level of The Caledonia Foundation's engagement was its commitment to ensuring maximum return on social capital through Outreach and Education. We brought a clear vision for ensuring that our two core contributions - financial and intellectual capital - were leveraged strategically through Education and Outreach activities. Thus, we funded the donation of a copy of The Oasis DVD to every secondary school in Australia, as well as the development of a study guide and comprehensive website. Further, we committed to ensuring that the NYC's findings were effectively disseminated to all relevant policymakers at a Federal and State level, and brought to the attention of philanthropic bodies like us. All up, we designated almost one-third of our project budget to Education and Outreach activities.
Through these three pillars of investment - of financial, intellectual and social capital - The Caledonia Foundation is confident that the issue of youth homelessness will achieve unprecedented public and policymaker attention in Australia. The Federal Government will, we hope, embrace the project as a compelling contributor to its new social inclusion agenda. And thus it will be possible for us to track, in real terms, the degree to which the NYC's recommendations are adopted by governments, now and in the future.
We will be able to look back in 2030 and make a direct link, we hope, between the Australia's Homeless Youth project - a privately funded philanthropic initiative - and a range of comprehensive, community-wide initiatives that subsequently ameliorated (perhaps alleviated) youth homelessness in the ensuing two decades.
And if that occurs, we will salute all those in the third sector - from case workers and social workers, to researchers and service managers - who have tirelessly dedicated themselves to working with Australia's homeless youth, so often rendered voiceless by systems that fail them.
The Caledonia Foundation